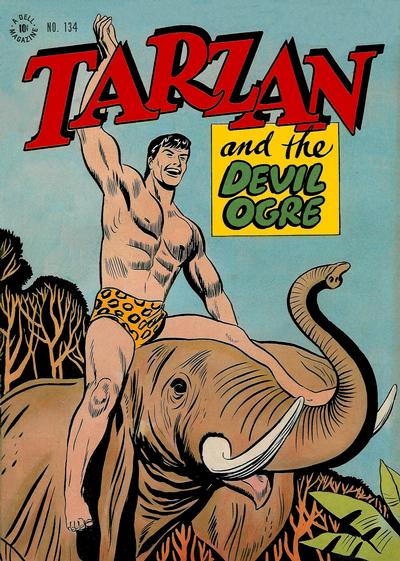 De 1939 à 1962, Four Color a été le titre le plus prolifique (1332 numéros !) de Dell. C'était une série de nature anthologique proposant des histoires de différentes natures et servant souvent à tester de nouvelles séries.

Il y a eu cinq numéros consacrés à des personnages d'Edgar Rice Burroughs. Le 134 (février 1947) et le 161 (août 1947) présentent les première aventures inédites de Tarzan en comic-book, Tarzan and the Devil Ogre et Tarzan and the Fires of Thor. Les numéros 375, 437 et 488 sont des adaptations de trois premiers romans du cycle de Mars.

Les dessins sont du prolifique Jesse Marsh à qui on devra la quasi-totalité des aventures de Tarzan parues chez Dell.
| | |
| --- | --- |
| • | « Edgar Rice Burroughs' Tarzan : The Jesse Marsh Years n° 1 » (Dark Horse, février 2009) |
| | |
| --- | --- |
| • | « Edgar Rice Burroughs' John Carter of Mars : The Jesse Marsh Years » (Dark Horse, mai 2010) |
| | | |
| --- | --- | --- |
| 134 | Tarzan and the Devil Ogre (Tarzan) | Robert P. Thompson / Jesse Marsh |
| 161 | Tarzan and the Fires of Tohr (Tarzan) | Robert P. Thompson / Jesse Marsh |
| | Tarzan and the Black Panther (Tarzan) | Robert P. Thompson / Jesse Marsh |
| 375 | The Prisoner of the Tharks (John Carter) | Paul S. Newman / Jesse Marsh |
| 488 | Tyrant of the North (John Carter) | Paul S. Newman / Jesse Marsh |
| 437 | The Black Pirates of Omean (John Carter) | Paul S. Newman / Jesse Marsh |